As seasoned brokers, we continually track the evolving trends and preferences of prospective homebuyers. One undeniable trend has come to the forefront: Mexico has emerged as the premier destination for both Americans and Canadians in search of not just a second home but a slice of paradise. In this report, we will delve into recent analyses and studies that illuminate the extraordinary surge of interest in Mexican real estate.
Mexico: The Most Coveted Destination
Recent analysis conducted by leading real estate firm Point2 Homes unequivocally establishes Mexico as the top choice for U.S. homebuyers looking to invest in the Americas. This conclusion stems from a comprehensive examination of web searches originating from the United States, featuring Mexico-centric real estate keywords such as "homes for sale in Mexico" and "Puerto Vallarta homes."
In the 12 months leading up to June, monthly searches related to Mexican real estate in the U.S. skyrocketed to an average of 136,530, marking a staggering 60% surge compared to the preceding 12 months, as highlighted in Point2 Homes' 2022 study.
Despite this substantial growth, Mexico remains firmly entrenched as the ultimate vacation and second-home destination for U.S. citizens, with a record-breaking 32 million tourists visiting in 2022, securing Mexico's position as the world's second most visited country. Its captivating beaches and rich culture continue to entice buyers, solidifying its status as the top choice.
Who's Interested in Mexican Real Estate?
Demographics of Mexican Real Estate Enthusiasts Point2 Homes' data unveils intriguing insights into the demographics of those keen on Mexican properties. Approximately 58% of Mexico-related real estate searches in the United States during this period were conducted by men, while women accounted for nearly 42% of the searches. Notably, the 35 to 44 age group emerged as the most active, constituting 23.7% of total searches, showcasing their heightened interest compared to other demographics.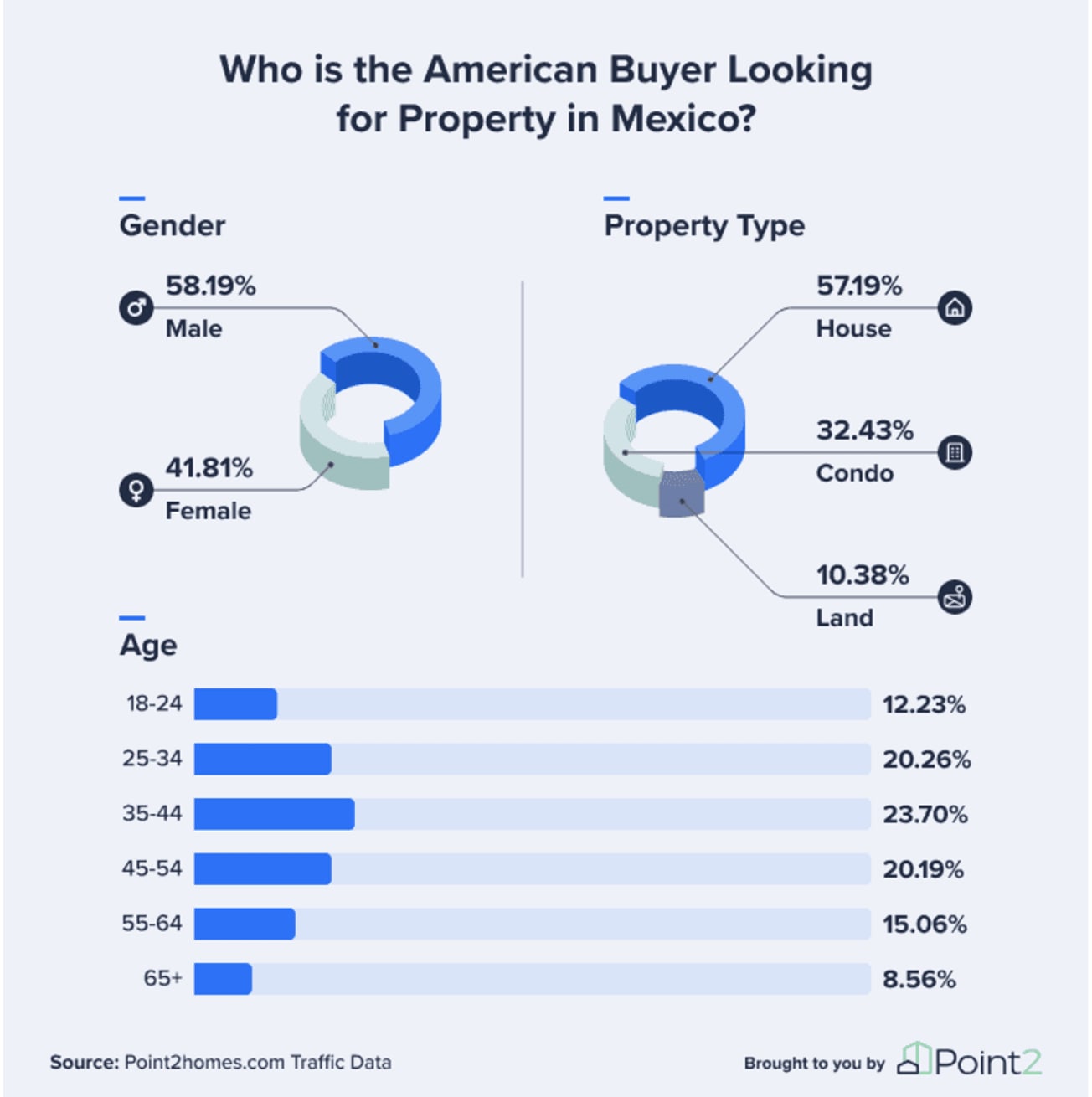 Desirable features and locations reign supreme. Prospective buyers are seeking properties that offer an upgraded version of their current homes, complete with sought-after amenities. Additionally, location plays a pivotal role, with beach and waterfront properties in Mexico proving to be exceptionally alluring.
Other Noteworthy Trends
It comes as no surprise that the "most sought-after locations" for home ownership in Mexico include Puerto Vallarta, San Miguel de Allende, Cabo San Lucas, Tulum, and Mérida. Moreover, Mexico City's housing market is gaining strength, presenting a more affordable alternative compared to many U.S. markets. As of the first quarter of 2023, the average home price in Mexico City stood at approximately US $213,000, enhancing its accessibility compared to some American cities.
Mexico's real estate market is ablaze, attracting both American and Canadian investors with its diverse offerings, proximity, and exceptional value for money. While establishing a personal connection with a destination is only natural, rest assured that as your dedicated real estate agents, we are here to guide you through the process and provide expert advice tailored to your unique needs and preferences. Let us transform your dream of owning property in Mexico into a tangible reality, focusing on what truly matters – your real estate objectives.
Take the first step towards owning beachfront property in Mexico. Contact us at [email protected] and [email protected]. Learn more at getmetomexico.com.