Transforming a historic rowhouse can be a delicate balancing act. Wheeler Kearns Architects know this all too well after more than 35 years of reimagining some of Chicago's most important residential landmarks. Consider the firm's 1992 reinterpretation of a 1903 rowhouse in the Astor Street Historic District of Chicago's Gold Coast as its defining expression of the past through the eyes of modernity. The prized five-bedroom home was built by Potter Palmer, who played a significant role in the development of Chicago business and the Gold Coast during the early 1900s, and remains a revered architectural tribute to the city's early history.
Recently listed for $4.2 million by Sherri Kramer, Craig Hogan and Rodolfo Zavala of Coldwell Banker Realty in Chicago, the residence begins with a Romanesque Revival-style facade that belies the contemporary 10,000-square-foot interiors just beyond the front door. Hallmarks of Wheeler Kearns are revealed early – via the home's focus on light and open spaces. Walls of glass throughout provide abundant natural light and showcase the home's many connected spaces. Massive room sizes offer sophisticated living with uninterrupted light that fills the space through a four-story atrium.
"The home is a harmonious blend of contemporary style and architectural significance," Kramer says. "Being able to stand on the first level and see through the glass section of the roof is just beyond rare." Adds Hogan: "The walls of glass on every level allow you to see everywhere across the floors. It's something I've never seen before. The renovation was a bit ahead of its time when it was completed – so it has this quality of timelessness that permeates throughout the whole house."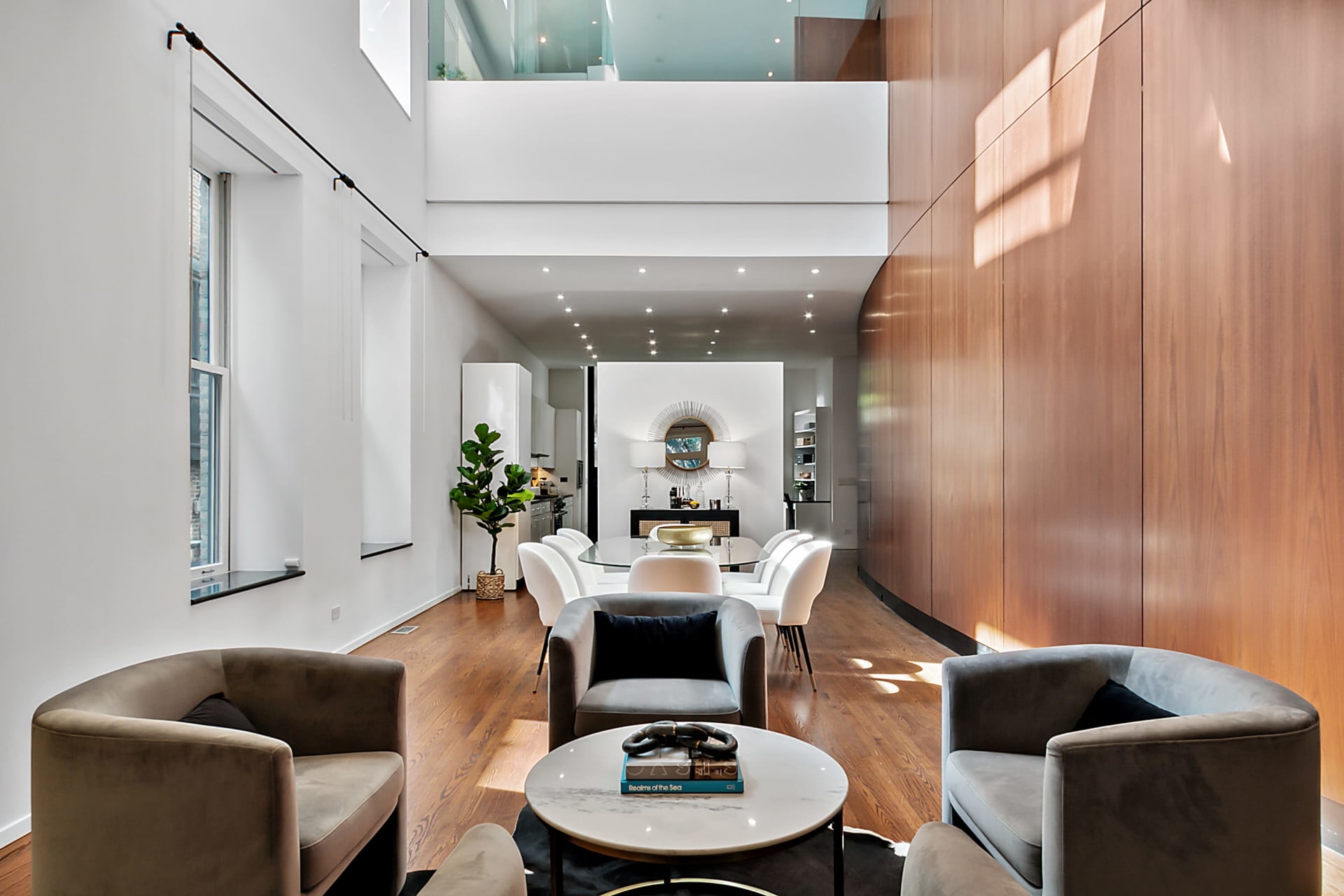 The firm's fondness for using materials that retain a sense of calm elegance also echo throughout. Expansive use of rich Macacauba wood on multiple levels surrounds an impressive "scissor" staircase that provides the center point to grand rooms, soaring ceilings, and bold modern lines. The firm's unusual reliance on wood extends from the lower level to the fifth level and even the custom doors, which resemble the wings of an aircraft.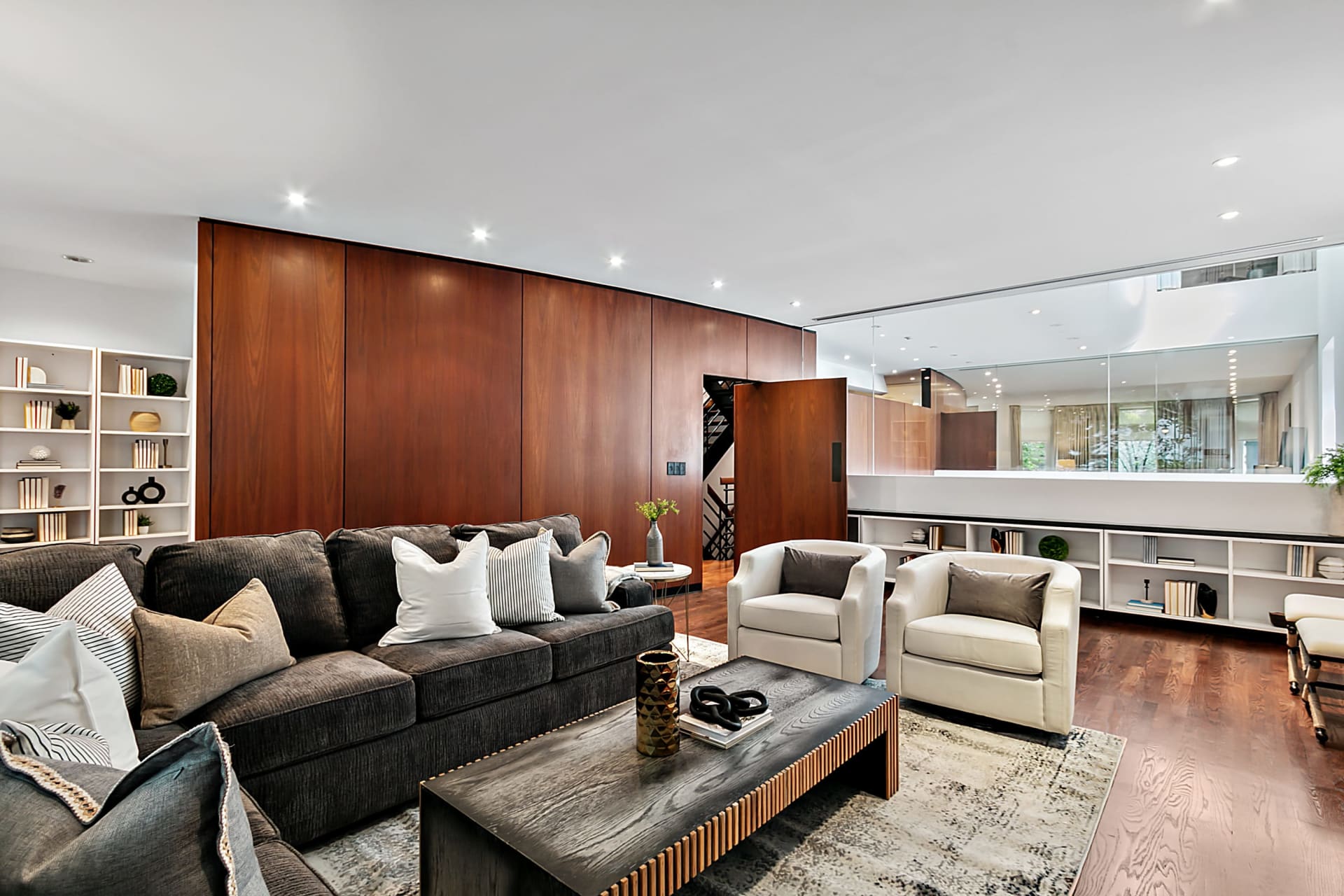 "You feel this sense of refinement from the interiors as soon as you walk into the home," says Zavala. The expansive entry opens to a 30-foot-long living room with 12-foot ceilings framed by five full-length windows leading to a secondary sitting room and an impressive dining area. A sleek, oversized eat-in kitchen beams in natural light and views through the double-level glass wall overlooking the center courtyard. "I loved the deck and garden – a good summer entertainment spot, as well as the dining area for indoor meetings and dinners," shares the seller. "There is so much closet space and daylight to cheer us up."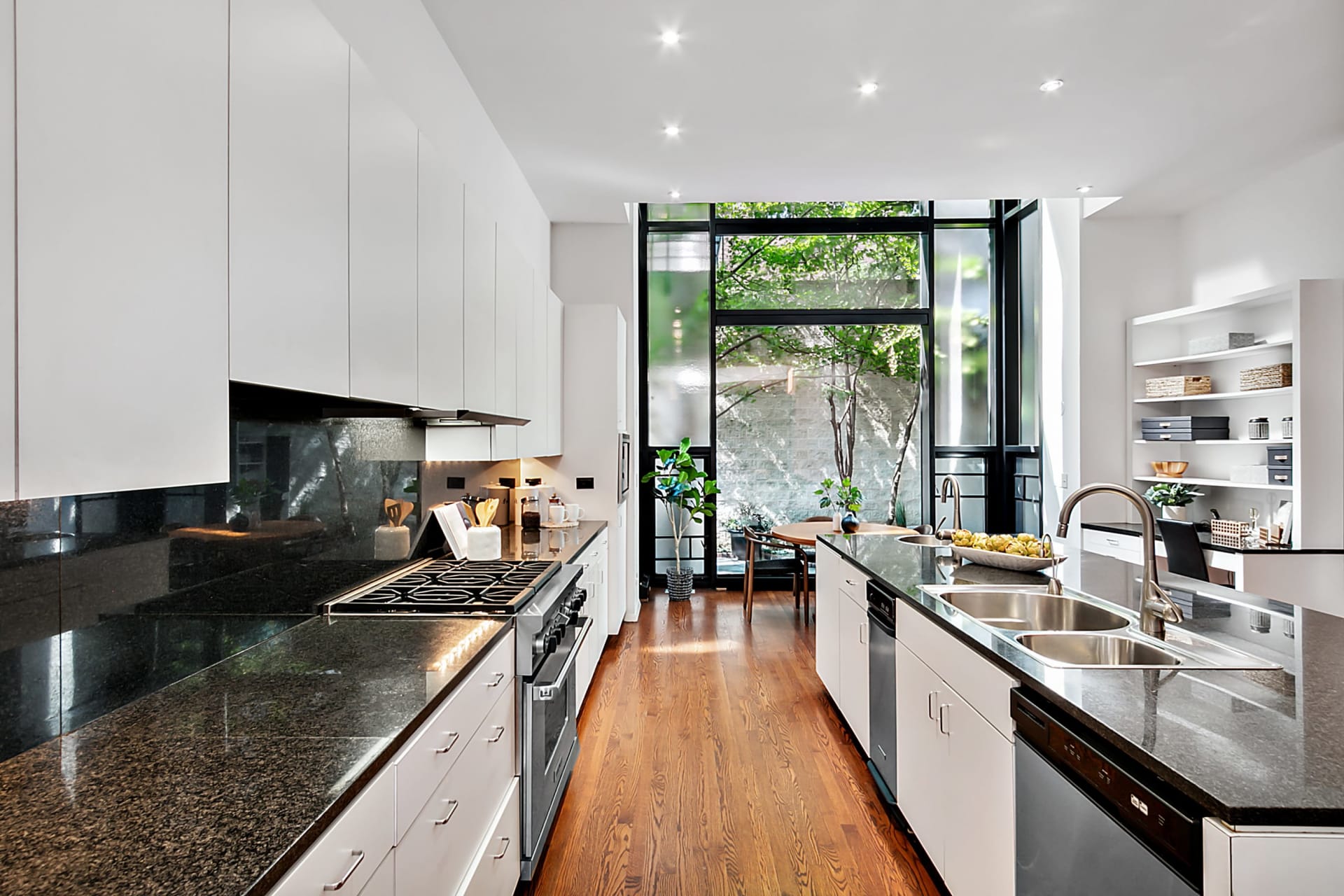 The second floor features a large ensuite bedroom and family room with a half bath and access to one of two laundry areas. A unique terrace with a large, cabana-style outdoor space is accessed through a 22-foot iron framed walkway with views over the lower level courtyard. The third level features a full-floor primary suite with hardwood floors, a connecting sitting room, a large white marble bath with double vanities, an oversized enclosed shower, and a jetted tub with an additional half bath and two dressing rooms.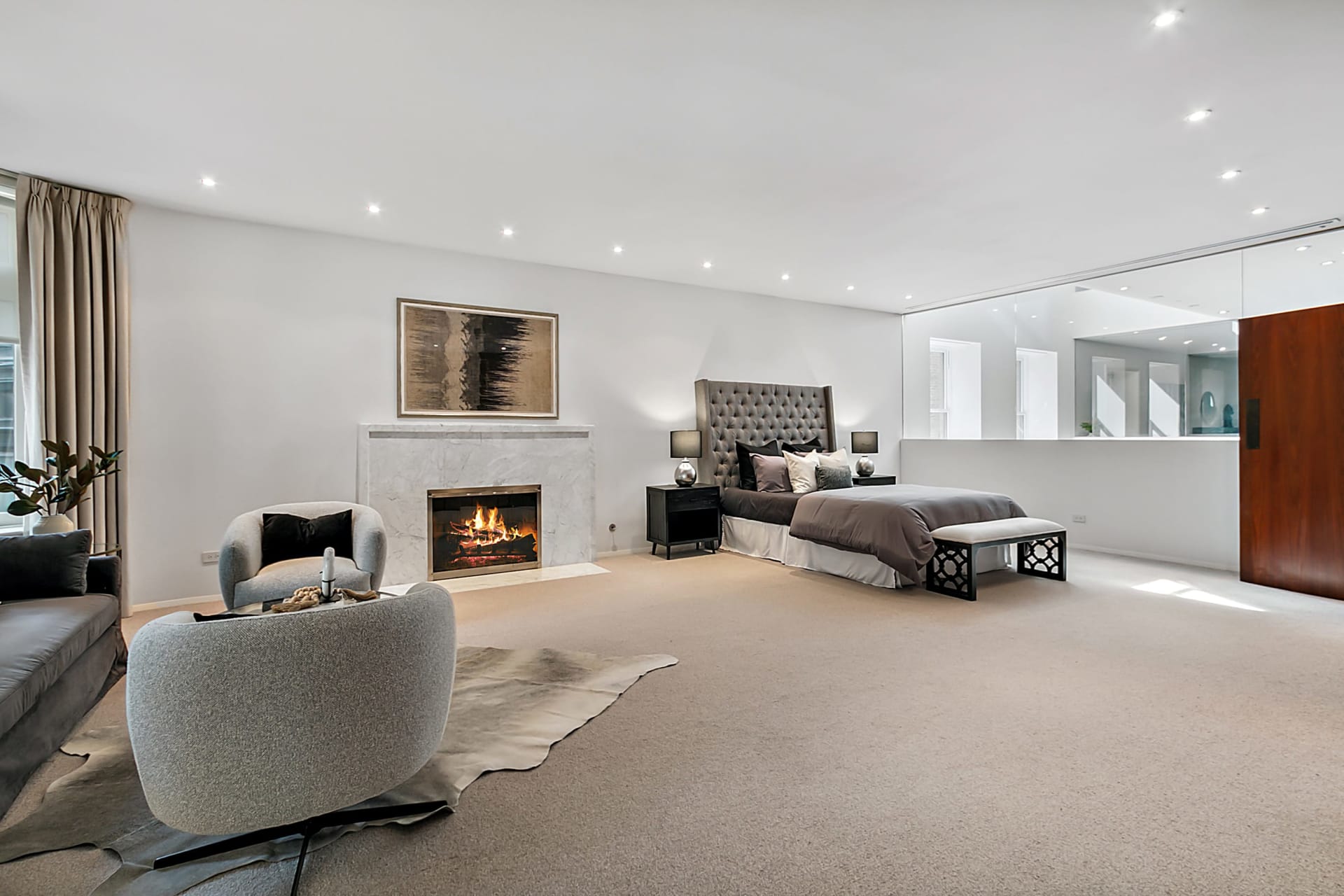 The upper floor provides a large ensuite bedroom, an additional room of equal size with hardwood floors, and access to a full bath and a built-in home office workspace under a ceiling of skylights. Meanwhile, the lower level could be the ultimate flex space – ideal for a home gym, library, media room or home theater, or two additional bedroom suites, one with a private entrance. Rounding out the generous offerings on each floor, the interiors are appointed with fully automated blinds, four marble fireplaces, elevator access at all levels, and a three-car garage.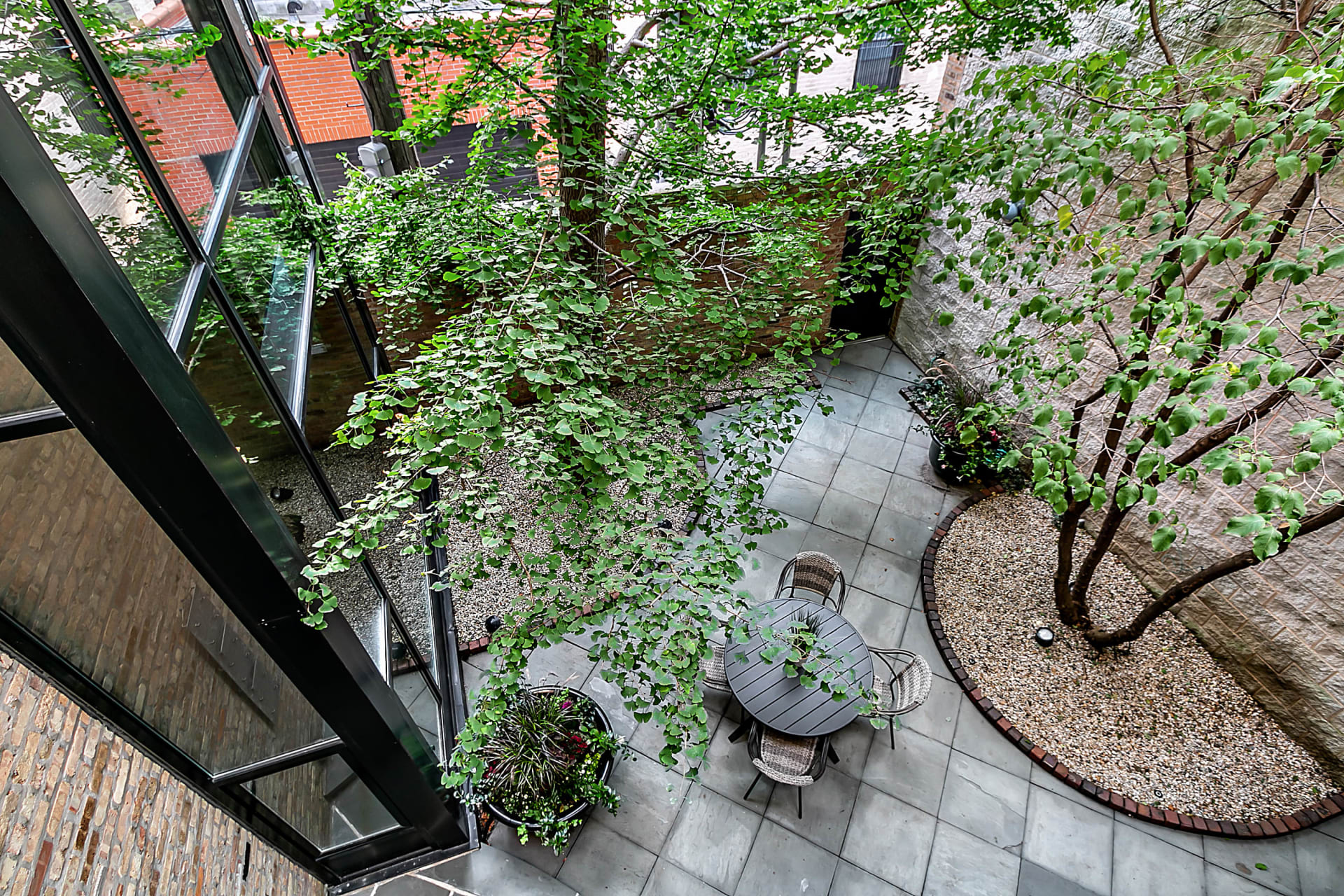 An iconic location in the heart of one of Chicago's most celebrated districts puts the future buyer close to historic mansions, boutiques, Michelin-starred restaurants, historic hotels, and more along the Magnificent Mile. "We always enjoyed going downtown," reveals the seller. "The house is located exactly where we wanted to be, and we had space for living."
For more information visit the property website.
Lead writer @AlysonBaumbach